Incision (video version)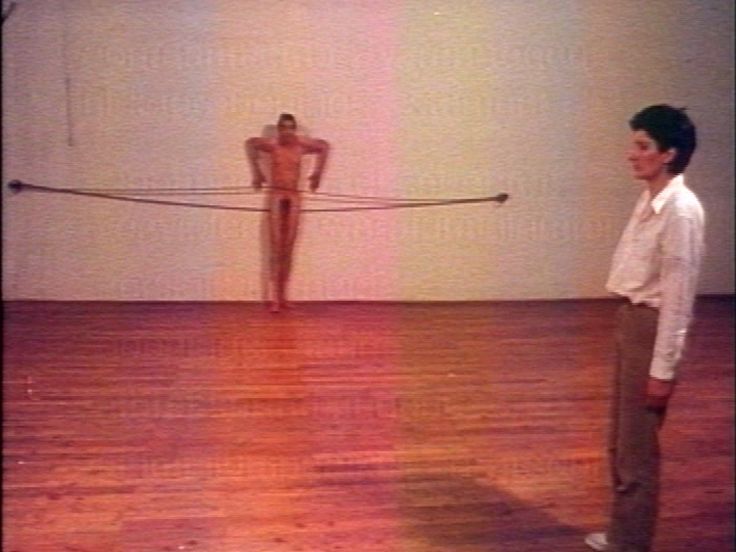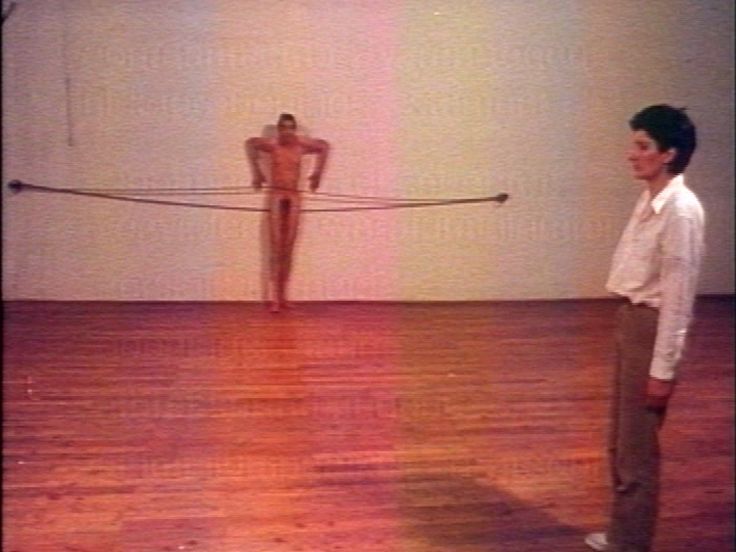 Unable to play video - your browser does not support any of the available video types.
In the performance 'Incision', which took place at Galerie H-Humanic in Graz, Austria, in April 1978, Ulay runs into a large elastic band, which he tries to stretch as far as he can, despite its strong resistance. He repeatedly runs towards the camera, which he looks straight into, only to be thrown back against the wall to which the band is fastened. Abramovic, who in contrast to Ulay is clothed, stands motionless at the furthest point Ulay can reach when he stretches the elastic band to its maximum. The contrast between Ulay and Abramovic is remarkable. Ulay is producing a strenuous physical effort, while Abramovic is passively staring at a single point.

The audience's attention is focused on Ulay, on the active part of the performance. Then Abramovic is…suddenly attacked by someone from the audience. A man, using both legs, kicks her hard to the floor. Abramovic pulls herself together and the performance goes on until Ulay, who had continued his action unperturbed, stops. Why did the man vent his aggression on Abramovic? Was he irritated by her passiveness? Indeed, Abramovic and Ulay planned the attack, but she did not know when it would come. In that moment, the attention immediately shifted to her.

Abramovic later said: "After the performance nobody really approved of the attack. There was this kind of hate projected from the audience."' Ulay added: "'The guy who attacked Marina was part of the audience. The audience did not want to identify themselves with the attacker, so the situation became psychologically very ambiguous." As a consequence, to the audience, the performance no longer offered the security of a predictable action. At any point something unexpected could happen, depriving the onlookers of their safe, passive spectator's position. Thus Ulay's statement that "performance was not a popular thing to do at the time, because it was not comfortable."

[This color registration made on videotape is shot from a different angle than the other film-based registrations. The film camera that produced the main registration is visible in this shot, and this version also includes some views of the audience.] Read more...
Date: 1978
Length: 26'48''
Type: Video
Copyrights: All rights reserved (c) LIMA
Genre: performance (artwork genre), body art
Keywords: registration (technique), body, power, gender, space, violence