4 Chairs (Museum Still 1)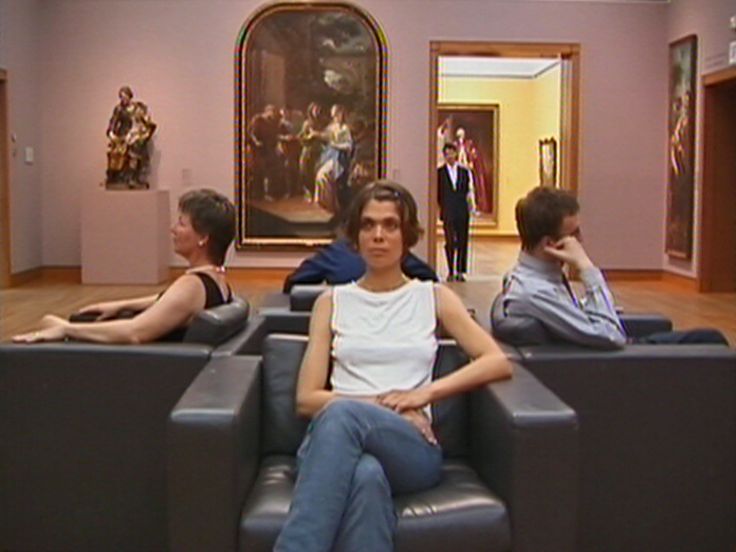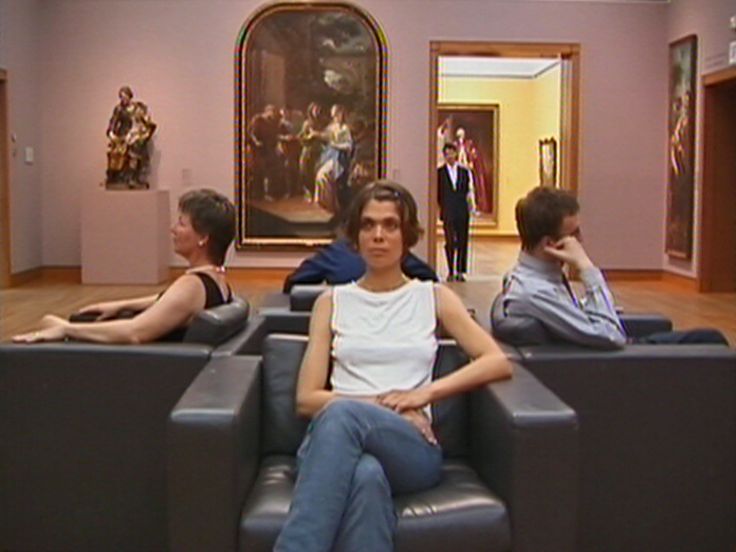 Unable to play video - your browser does not support any of the available video types.
Adad Hannah's Stills are a combination of performance art, video art and photography. The image moves, but, from beginning to end, shows the performers carrying out one single frozen action. Hannah calls them long exposure videos, with the takes lasting between five and fifteen minutes, and being shown in real time without sound or editing. They are reminiscent of tableaux vivants, a popular nineteenth-century form of art in which groups of actors represented (mostly) paintings before an audience. These tableaux owed their effect particularly to the possibility of reinforcing the conveyance of the image by combining greater physical presence with time for contemplation within a theatrical setting.
In the Stills we also see people in situations which, at firs… glance, give us reason enough to lose ourselves in thought (a man is watering plants in a container in what looks like a lobby; he is wearing a brace around his knee, one of his trouser legs has been cut off; the watering is probably his work... etc.). The viewer is given plenty of time to explore and contemplate the space and the ingredients of the image. What is different from traditional tableaux vivants is that here we are presented with documentation of such a scene. The viewer is watching it on a screen, so that perhaps it is better to compare the experience to that of a show box.
Even so, this form of video art unsettles our perception. This is most strikingly the case in the Museum Stills series, in which performers are enacting tableaux in a arrangement relating to figures represented in the paintings on the wall. The viewer's sense of reality, that in fact only bears relevance to the unmanipulated video recording of a museum gallery, magically expands in the direction of the painted spaces. In this way, the Stills become a representation of the extreme experience of art in which real contact becomes imaginable, with work of art and viewer reaching out to one another.
Vinken & Van Kampen
Read more...
Date: 2002
Length: 5'00''
Type: Video
Copyrights: All rights reserved (c) LIMA
Genre: appropriation
Keywords: representation, art, movement, photography (subject)