Green Screen Gringo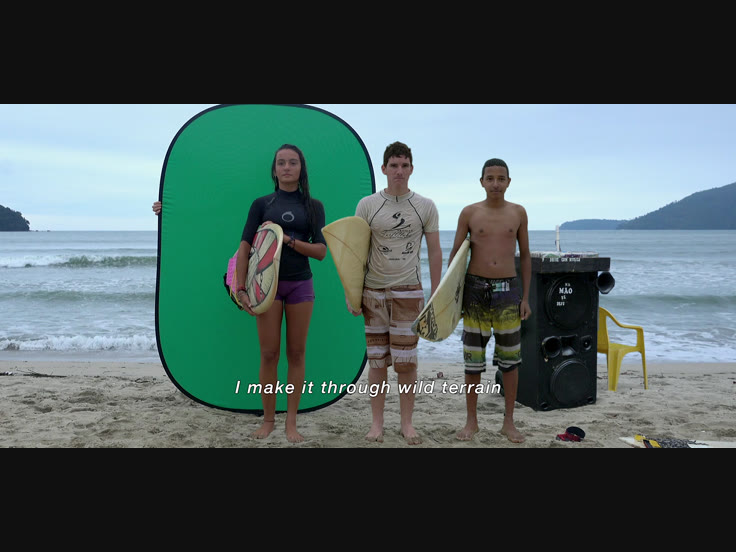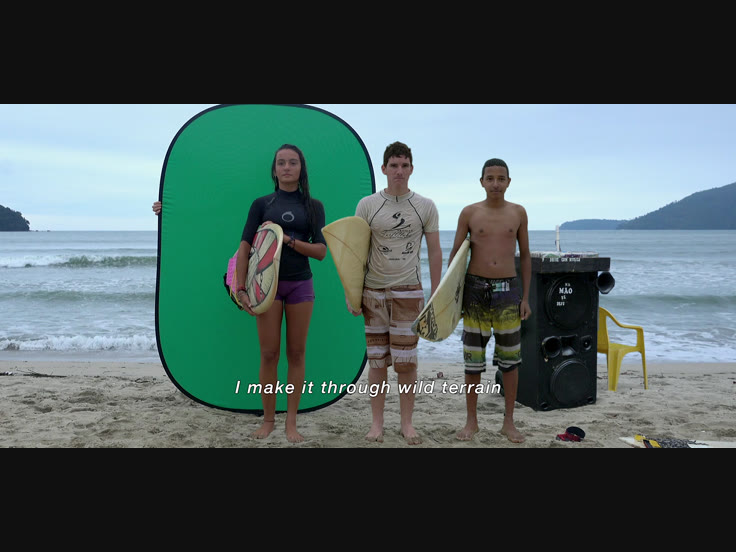 Unable to play video - your browser does not support any of the available video types.
Behind a green screen, a foreigner finds his way in an enchanting - and yet turbulent - São Paulo, Brazil. Where the streets are a stage for politics, art and affection, a gringo can only watch. Dijkstra shows us São Paulo as a city of contrasts. Brazil is going through political upheaval, but never loses its passion for (traditional) music and art. The result is a mixtape-portrait on a country and its inhabitants seen through the eyes of a visitor.

"For its rich, witty and affirmative portrayal of humanity and solidarity on the streets of a turbulent city, the Grand Prize of the Lab Competition goes to Green Screen Gringo by Douwe Dijkstra."
Lab Competition jury at the 39th Clermont-Ferrand International Short Film Festival 2017: Nine Antico, Rok…sareh Ghaem Maghami, Rosie Pedlow
"The director proposes an ever-changing reality. Dijkstra films like someone who is learning, he shows us a Brazil that resists institutional narratives. With grace and intelligence, he reveals to as the incongruities of truth. In the end, he finds out that the strangest thing is that everything is normal."
Text from the Indie Lisboa catalogue 2017 (G.M.)
"The filmmaker's position as tourist in a complicated political landscape shows great honesty as it highlights themes of displacement, resistance, inequality and echoes of colonialism. The innovative use of the green screen playfully and astutely communicates the grand narrative of Brasil's turbulent recent events whilst highlighting the persistence of its complex history."
International jury Glasgow Short Film Festival
Green Screen Gringo won The Bill Douglas Award for International Short Film at the Glasgow Short Film Festival 2017
"With the smart use of a simple technique, Douwe Dijkstra opens the frontier of the Brazilian society. He shakes up the castes and history, and creates a poetic equality of people."
International jury Vilnius International Short Film Festival: Santa Lingeviciute, Torunn Nyen, Clément Tréhin-Lalanne
Green Screen Gringo won the award for best documentary at the 11th Vilnius International Short Film Festival 2017
"As the film itself says, "make up a story of your own", "there's a lot going on here". Playful, startling, stunning, Green Screen Gringo is cinema at its most inventively audacious."
Andrew Robertson on Eye For Film
"(…)Reality is presented in a new way before our eyes. A green screen opens up through the crowd to reveal the contrasts of a country that is going through political upheaval, but never loses its passion for music, art and pace of life. A chroma transported by hand is used to allow us to dominate at least a piece of reality. The result is a reflection that is as bold and committed to Brazilian society as a protest song to the rhythm of samba."
Alternative synopsis by Punto De Vista, Green Screen Gringo is part of the 11th Punto De Vista International Documentary Film Festival in March 2017

This film was shot during my two month residency at LABMIS in São Paulo.

Audio mix and sounddesign: Rob Peters
Graphic design: Bas Koopmans & Nuno Beijinho
Color grading: Wieger Steenhuis
Music by: Pedrowl, Lia Clark, Stefanini and O Terno
Subtitles by: Subs Hamburg
Read more...
Date: 2016
Length: 15'51''
Type: Video
Copyrights: All rights reserved (c) LIMA