Dragon Heads (single channel)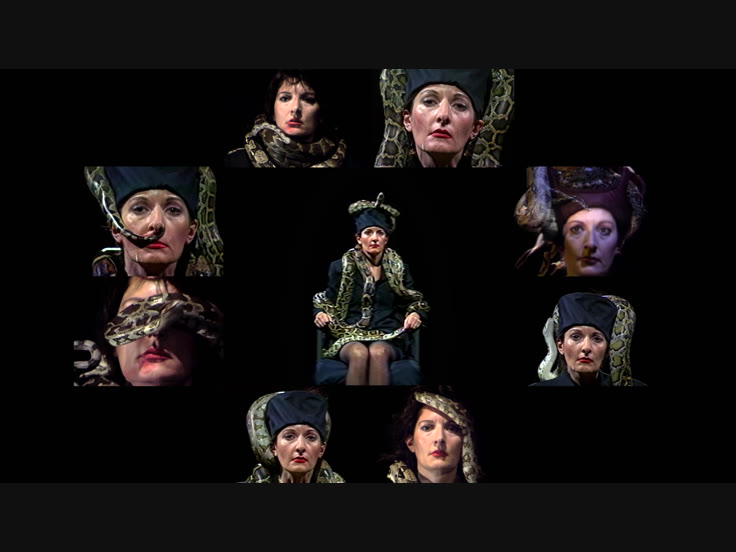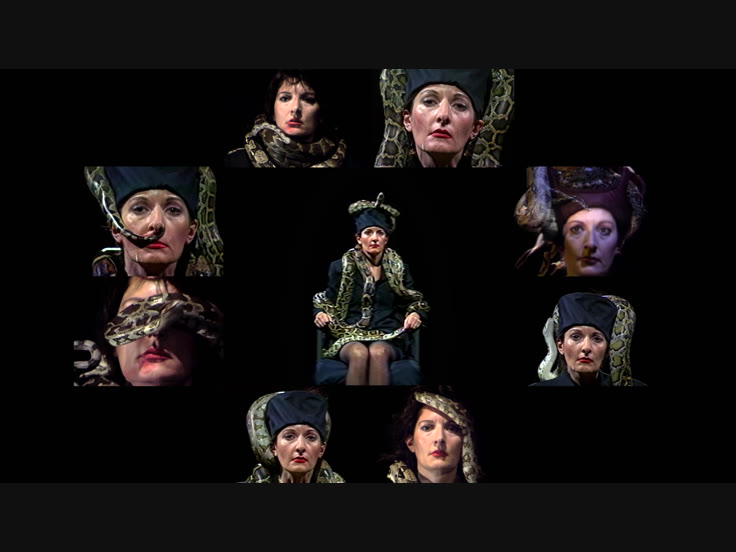 Unable to play video - your browser does not support any of the available video types.
The performances that belong to the 'Dragon Heads' series were the first that Marina Abramovic carried out after her separation from Ulay at the end of the famous 'The Lovers: The Great Wall Walk', in which the two artist walked from two ends of the Great Wall of China to say good-bye in the middle. In fact, the series actually consists of the same performance that is done several times at various locations between 1990 and 1994, with only small variations. In all versions, Abramovic sits motionless with a snake slithering around her body. According to Abramovic, the starting point for this work was the following observation: 'Snakes can follow the energy of the planet, wherever you put them.' Thus, the snakes in the performances would actually never go into t…e audience because they do not slither over ice, which surrounded Abramovic and the snakes. The snakes were to follow the lines of warmth and energy on Abramovic's head and body. The seven channels of Abramovic's installation 'Dragon Heads' from 1990, which are based on studio re-enactments of the events, are all similar in that she wears a crown of large snakes in each of them. Each monitor shows a close up of Abramovic, who is almost expressionless as snakes slowly slither around her face and neck. The same sequence repeats a few times by means of dissolve. In the soundtrack of 'Dragon Head No.2', Abramovic's voice-over hypnotically repeats 'follow my skin, follow my energies, follow the earth's skin, follow the crystal's skin... the heat of my skin, deep in the centre of my being...'. In 'Dragon Head No.4', the contraction of the snakes' muscles can be easily noticed as Abramovic's face is pushed and distorted by the movements of the snake. Her lip is pulled and as the snake finds its way winding around her neck giving a sense of impending suffocation. As the work clearly refers to the Medusa-theme as well to the mythological symbolism attached to the Great Wall of China, snakes in general are a recurring motif in Abramovic's work . In the performance 'Three' (1978), Abramovic and Ulay lay down on the floor, emitting sounds from a bottle to attract free roaming snakes to approach them. The imminent danger that emanates from snakes is what seems to motivate part of Abramovic's fascination with these animals, placing the work in the context of earlier performances that play on the fear of the participants. 'Dragon Head No.1', 'Dragon Head No.2' and 'Dragon Head No.4' are also part of the 16-channel installation 'Video Portrait Gallery' (Abramovic 1975-2002). Read more...
Date: 1990
Length: 60'00''
Type: Video
Copyrights: All rights reserved (c) LIMA