Movement Away from Primary Colors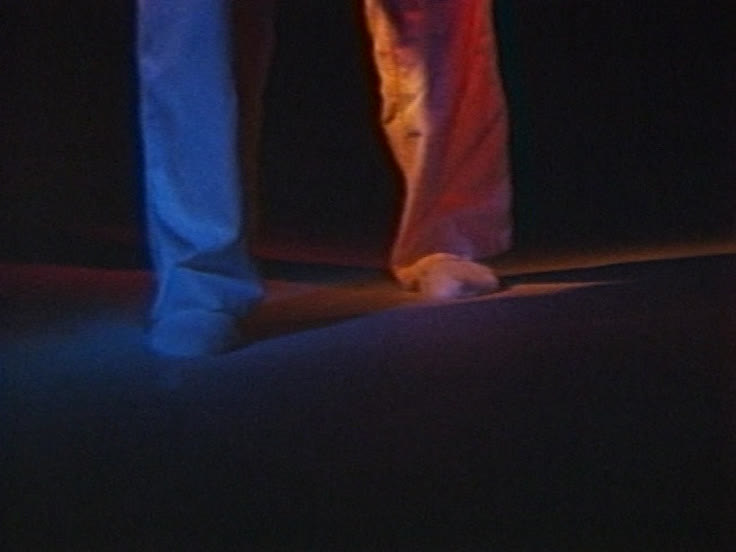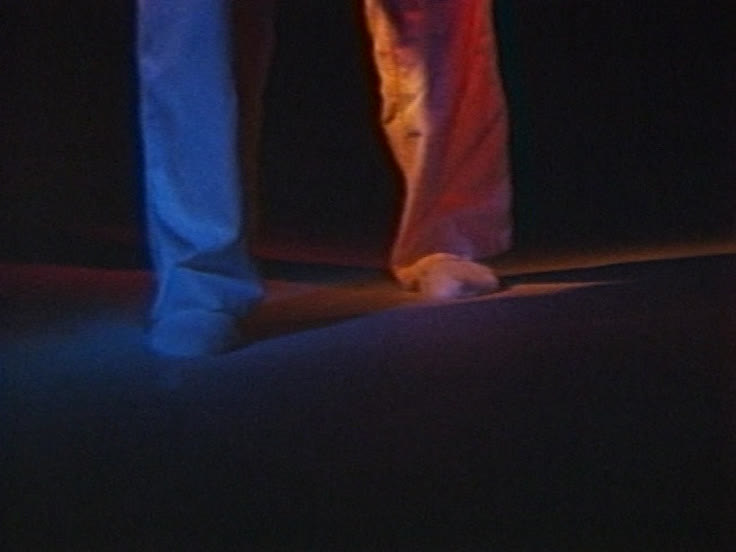 Unable to play video - your browser does not support any of the available video types.
From 1979 onwards, Nan Hoover not only makes use of black and white, but also of colour in her video work. In 'Movement Away from Primary Colors', we can see two legs clad in white trousers, on which red, yellow and blue lights – and the nuances of colour in between – are projected. At the beginning of the tape, the feet, from the viewer's point of view, are turned to the right, and the predominant colour is red. Due to scarcely noticeable, rhythmical changes in the pattern of movement, the legs shift, in a rotating movement, from right to left. At the end of the tape, the feet are turned to the left, and the predominant colour is blue. As subtle and controlled as the movement is also the change in the light. Because the chiaroscuro keeps changing, so …o the shadows. The images are accompanied by sounds that are reminiscent of a heartbeat and of the flowing, murmuring or splashing of water. The transition of the colours from light to dark and the turning movement from right to left – east to west – can be compared to a sunrise and sunset. The tape ends like a lovely summer day. The sun has sunk into the sea, still spreading a glow of red and yellow, while twilight falls.
For Nan Hoover, it is '[…] interesting to see the different forms my visual language has taken over the years. The line, the continuous development in one's work, has always been important to me'. The main difference between 'Movement Away from Primary Colors' and her earlier works is obviously the use of colour. Moreover, the landscape that Hoover suggests is not so much made up of body parts as by the elements surrounding them, such as sound and colour. Besides the differences, there are also a great many similarities: the use of body parts, the subdued mood evoked by subtle movement, and the atmosphere of concentration which is also determined by the sound, are familiar elements in Hoover's work. Read more...
Date: 1980
Length: 6'58''
Type: Video
Copyrights: All rights reserved (c) LIMA
Genre: performance (artwork genre)
Keywords: registration (technique), body, light, perception, colour