Piet Mondriaan in the crowd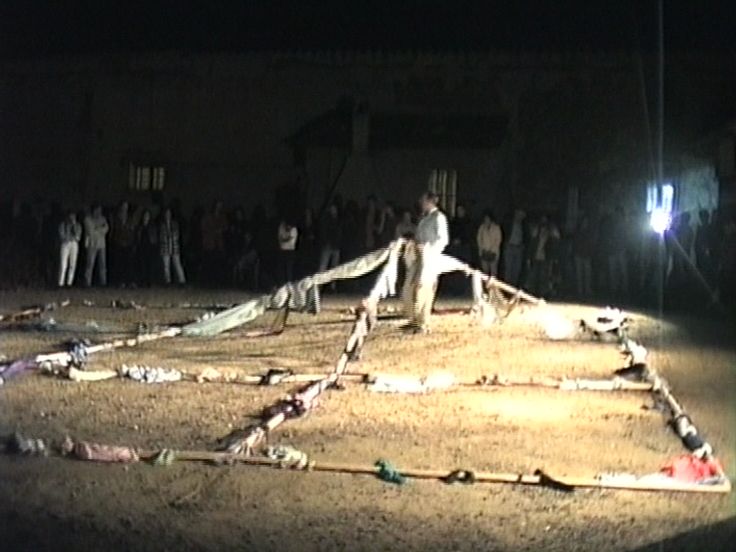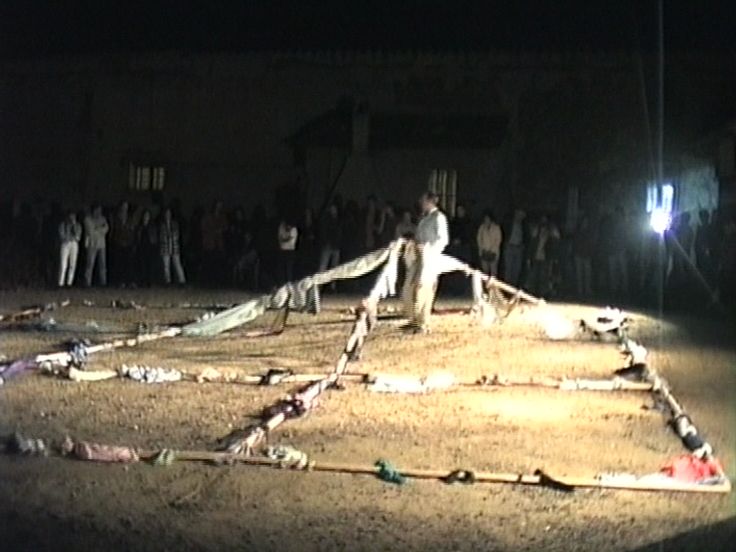 Unable to play video - your browser does not support any of the available video types.
Thin wooden ledgers, about 2 meters long, are positioned in a perfect geometrical frame on the floor of a dusty Italian courtyard. They form a grid of nine squares, in which a wide variety of clothes is laid out. The ledgers are attached to each other with rope, so that the whole grid is one connected body with movable joints. One by one, each piece of clothing is tied to the frame. In the darkness of the evening, the actual performance starts, lit by several strong lamps in the presence of an audience. Janssen starts to manipulate the shape of the frame by pulling and lifting the ledgers. With the clothes hanging on them, they form a tipi-like shape when pulled up. This visual play with geometrical forms is a clear reference to the works of Piet Mondriaan. T…e movements are completely random, as we see more often in Janssen's work. Every once in a while, when the frame is completely messed up, he tries to place the ledgers back into the original grid, which is almost always impossible. This work was performed four times: in Amsterdam in 1979, in Lodz (Poland) in 1981, and in Prague in 1992. Finally the piece was performed and documented in this recording in Cagliary in the south of Italy in 1995. The previous versions of this performance didn't include the clothing.

Netherlands Media Art Institute, Anna Hoetjes Read more...
Date: 1995
Length: 26'17''
Type: Video
Copyrights: All rights reserved (c) LIMA
Genre: performance (artwork genre)
Keywords: representation, art, space, process