Balkan Baroque (registratie Biennale di Venezia)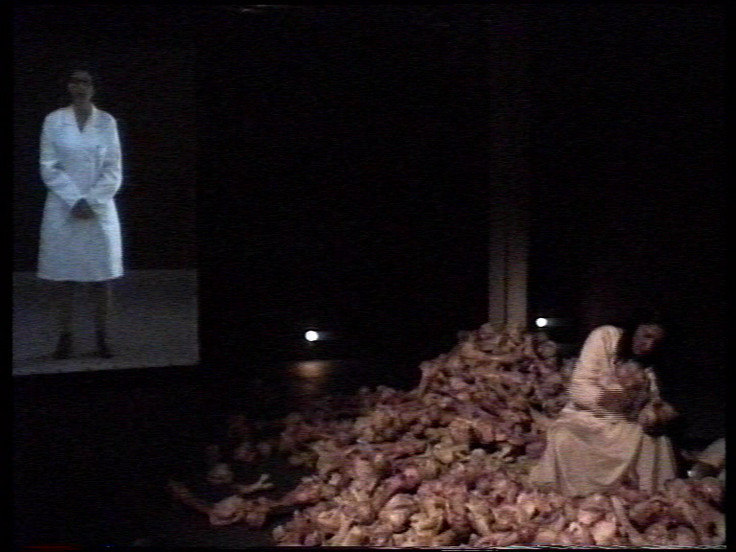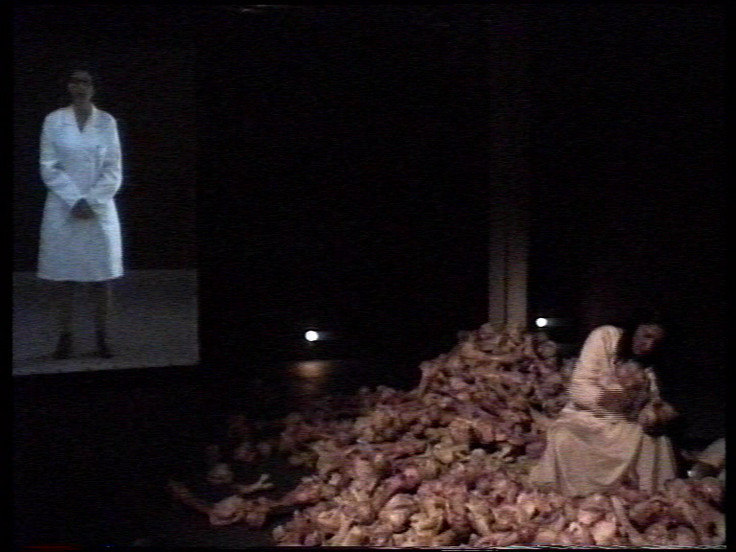 Unable to play video - your browser does not support any of the available video types.
'The video images in Balkan Baroque are spatially organized like a triptych, in the middle of which there is a life-size portrait showing Abramovic as a dual self. In the first part she is dressed in a white doctor's topcoat and acts as a scientist-zoologist who tells the story of the creation of the Wolf-Rats in the Balkans, animals that, when placed under unbearable conditions (one would say, like humans in war), begin to destroy each other. In the second part, she transforms into a woman - a 'typical' Balkan tavern singer who amuses the (male) audience - dancing, as if possessed, to the sounds of a folk melody (…). On the left and right there are video portraits of her mother and father, both of whom broke with the religious background of the Christian Or…hodox families, went to the partisans, took part in the National Liberation War (1941-45), and joined the Communist Party. (…) The video-portrait with parents is installed in a dark room in which one could hardly notice three copper sculptures containing water, suggesting a spiritual purification. The act of self-purification is, however, performed by Abramovic who, for six hours a day over four consecutive days washes with a metal brush, soap and water a pile of cowbones, scraping the last bits of meat from them. This purification 'to the bone', as suggested by the expression itself, this clearing away of ballast (beautiful or ugly, pleasant or unpleasant, personal and collective past), becomes an individual work of mourning without which no rite of passage can occur.' (Bojana Pejic in Balkan Epic, exhibition catalogue Pirelli Museum, Milan, 2006)

The work is currently installed as a four-channel exhibition, the fourth channel - a registration of the performance - being shown on a monitor located inside the pile of bones. Read more...
Date: 1997
Length: 4'12''
Type: Documentation master file
Genre: performance (artwork genre), body art, registration (documentation genre)
Keywords: registration (technique), installation - multi-channel video installation, body, culture, politics, personal history
Copyrights: All rights reserved (c) LIMA